TOOLS FOR LIFE
SCIENTOLOGY TOOLS
BROUGHT TO LIFE ON FILM
The textbook for the training of Volunteer Ministers is The Scientology Handbook, compiled from the works of L. Ron Hubbard.
The
SCIENTOLOGY
HANDBOOK
TOOLS
FOR LIFE
Award-Winning film
AVA AWARD
PLATINUM
MARCOM AWARD
PLATINUM
THE AURORA AWARD
PLATINUM BEST OF SHOW
In a world where the individual is increasingly beset by economic, political and social forces that can seem overwhelming, Mr. Hubbard directed the publication of the book to make Scientology technology readily available to anyone to help themselves and others.
The Scientology Handbook Tools for Life film is comprised of 19 chapters, each an introduction and overview of one of the chapters of The Scientology Handbook.
With the release of the 2-1/2-hour film, the Church of Scientology made these fundamental Scientology tools available virtually everywhere.
Accessible online and also available on DVD, The Scientology Handbook Tools for Life film presents basic Scientology principles that anyone may use to improve any aspect of life, including the most common difficulties and challenges—a failed marriage, trouble raising children, feeling stressed or depressed, problems on the job, conflicts in the community—and how to achieve one's personal and societal goals.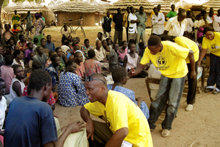 Through examples drawn from life, the film increases understanding of all major concepts in The Scientology Handbook and thus improves application of the material.
The Tools for Life film also provides viewers with the definitive introduction to how the Volunteer Minister motto—"Something can be done about it"—is accomplished.
To make the film available to millions more, Scientologists sponsored its placement in every lending library on Earth.
Accompanying the films are the 19 corresponding Scientology Handbook Courses in 15 languages, available online free of charge. Visitors to the site are invited to enrol on any of the courses, first watching the film and then proceeding through the course.
TOOLS FOR
LIFE

FILMS
—for every—
ASPECT
OF LIFE
Each course covers exact technology with step-by-step procedures anyone can apply to the betterment of any situation. All lessons are reviewed and answered by a trained Scientology Volunteer Minister who provides personalised direction and assistance to students, including guiding them to the courses best suited to their needs.
Having themselves benefited, many train to become Volunteer Ministers in the spirit invoked by Mr. Hubbard when he originally introduced the programme:
"If one does not like the crime, cruelty, injustice and violence of this society, he can do something about it. He can become a VOLUNTEER MINISTER and help civilise it, bring it conscience and kindness and love and freedom from travail by instilling into it trust, decency, honesty and tolerance."
CLICK ON AN IMAGE BELOW TO SEE THE FILM