GLOBAL DISASTER RELIEF
COMPASSION AND CARE
NEW YORK 9/11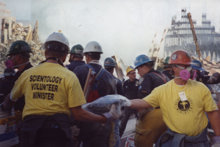 The Volunteer Ministers Disaster Response Team was born out of the World Trade Centre disaster in New York City on September 11, 2001.
Within hours of the disaster, New York Volunteer Ministers were on site, providing immediate support to emergency personnel and helping to bring order to the chaos. They continued to arrive from all over the United States and other countries, until 800 had taken their places on the scene, working 24/7 for many weeks alongside New York emergency rescue teams.
Volunteer Ministers provided physical help in the form of food, water, clothing, gear and other necessities. They gave Scientology Assists—actions undertaken to help a person confront physical difficulties—to exhausted police and firefighters overcome with stress, fatigue and shock. They further provided spiritual assistance to those suffering from the loss of friends, family and coworkers.
MORE THAN
800
VOLUNTEER
MINISTERS
contributed
130
THOUSAND
—hours at—
GROUND
ZERO
When it was over, Volunteer Ministers were awarded the New York Fire Department's Medal of Valour and received acknowledgment from officials and civic leaders.
"As one who saw firsthand what was needed at the World Trade Centre site in the days and weeks immediately after September 11th, I want to thank you, the Church of Scientology, and the Volunteer Ministers of the Church of Scientology, many of whom came long distances to help us.
"The Volunteer Ministers worked with great energy and great compassion at Ground Zero, helping to ease the physical burdens and mental strains of the rescue workers. The organisation, the caring, and the dedication of your Volunteer Ministers were exceptional, very much appreciated, and will long be remembered by those who received their help. I cannot thank the Volunteers enough."—Department Chief, New York Police, December 2001