ABOUT THE PROGRAM
THE TRUTH ABOUT DRUGS
EDUCATIONAL FILM
The
TRUTH
ABOUT
DRUGS
Award-Winning
Documentary
TELLY AWARD
SILVER AWARD
THE AURORA AWARD
PLATINUM AWARD
COMMUNICATOR AWARD
AWARD OF DISTINCTION
At the center of the Truth About Drugs educational program is a 100-minute documentary The Truth About Drugs: Real People, Real Stories, focusing on each of the 11 most commonly abused substances.
The film presents the facts: what makes a drug a drug, what each does to the mind and body and where they all lead.
It is a hard-hitting, no-holds-barred educational film, told by former users—who themselves survived life-shattering addiction—in the straight talk that is the hallmark of this program:
"You try drugs—it doesn't matter who you are. It doesn't matter how good a person you are or what your goals are. The drugs can take it all away." —Sara
"A lot of times they try to glamorize drugs, like make drug dealers or getting high look cool. But that's only in movies. In real life it's a whole different story." —Brian
"Somebody says, 'Oh, let's try this,' at a party, 'we're just going to have fun tonight. You know, it's a weekend thing.' But it's not like that. It's not just a weekend thing. And it starts off so simple and turns into a nightmare."—Stacie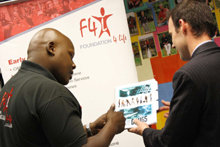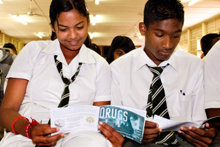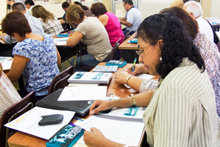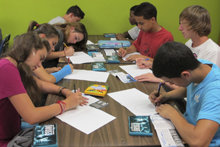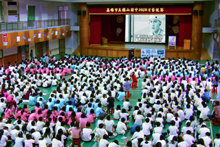 For young people who have "heard it all" and are skeptical of every scare tactic, these testimonials bring them face-to-face with the dangers of drugs, thus serving as an effective deterrent.
The impact of the documentary is reflected in the responses from a wide range of professionals who have embraced it as part of their own drug education activities:
"Personal testimonies are powerful. A must-see for all of my staff and students."—High school assistant principal, New Jersey
"The Truth About Drugs materials help bridge the gap that law enforcement officers can face when talking to kids about drugs. The videos and booklets are powerful and presented in a way that really speaks to them."—Police officer, Texas
"This compelling program was implemented with amazing results. Thank you for making this material available. The impact wrought on the lives of those exposed to this program shall be lifelong."—Education supervisor, Department of Corrections, Florida
The popularity and effectiveness of the Truth About Drugs program is such that it has been embraced by thousands of educational institutions and hundreds of organizations and government agencies at city, regional and national level in over 50 countries.
To make the materials available to educators, law enforcement officers and drug prevention specialists who are in a position to conduct formal lessons in a classroom or community learning setting, the Church of Scientology has sponsored production of the Truth About Drugs Education Package.
A COMPLETE EDUCATION PACKAGE CONSISTING OF AN EDUCATOR'S GUIDE, DOCUMENTARY, 13 BOOKLETS AND 16 PSAs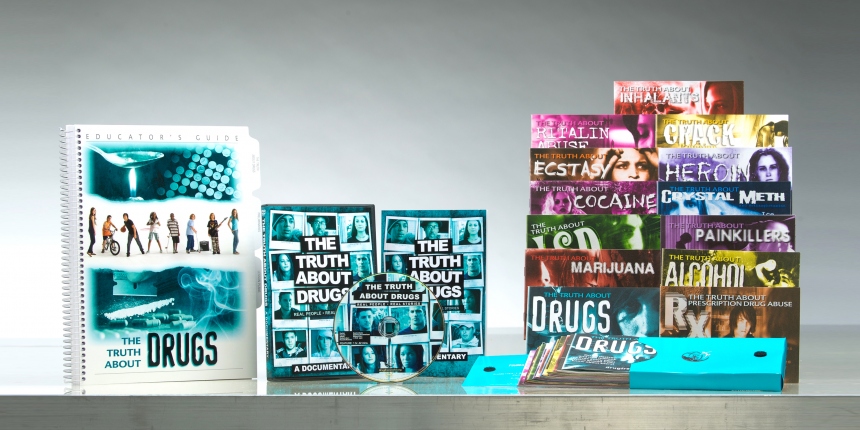 The package includes:
■ Educator's Guide, with a full semester of lesson plans, essays and homework assignments. Each component is designed to elicit student participation and is flexible enough to fit into any middle school, high school, college or university drug education or community program curriculum.
■ The Truth About Drugs booklet series: 24 sets of the 13 booklets on commonly abused drugs.
■ "They Said, They Lied" public service announcements: the 16 PSAs serve as introductions to the lessons.
■ "They Said, They Lied" posters: one for each of 11 different drugs, for use in conjunction with the lessons and for display in classrooms, community centers and other teaching settings.
■ The Truth About Drugs: Real People, Real Stories documentary, featuring former users who survived addiction and now speak about it.
Church of Scientology sponsorship of the program makes it possible for thousands of educators around the world to obtain the materials free of charge.
The coordinator of a Nigerian youth coalition described the effectiveness of the program in these terms: "Most lives being messed up by drug abuse are youth who are supposed to be the leaders of tomorrow. So the Church is telling them the truth, because most of the time nobody tells them the truth."
MORE THAN
20
THOUSAND
education
KITS
DISTRIBUTED IN
ONE
YEAR
A California drug demand reduction official said: "These Truth About Drugs materials connect, they are interesting, they are designed for youth and are fun to work with. And, most importantly, I have seen them in action for myself and I know they work."
The facilitator of an Islamic medical association in South Africa told of a student who took a copy of The Truth About Drugs DVD, saying, "I have an uncle who is on drugs and maybe if I show him this DVD it'll help him." A few days later she returned triumphant: "I actually got my uncle off drugs."
The program director for a Sheriff's youth foundation in a major U.S. city told Scientologists who work as Truth About Drugs volunteers: "If we need you to help the deputy, you're there. If we need you to help the kids or supply more material, you're there. It's something that's ongoing. It's not one week, it's 52 weeks."