RESULTS OF IMPLEMENTING
THE PROGRAMME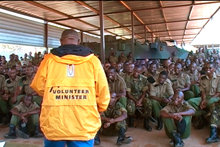 For more than three decades, Churches of Scientology and Scientology Volunteer Ministers have answered the call to serve others on a broad scale, providing physical and spiritual aid in every corner of the globe.
Through partnerships with like-minded groups—ranging from the International Red Cross to the Federal Emergency Management Agency (FEMA), from police and fire departments to government and private aid groups in every nation, Scientology Volunteer Ministers carry out their mission to bring hope and help wherever it is needed.
This is the hallmark of the Scientology Volunteer Ministers—working with other individuals and groups from around the world to multiply their effectiveness and extend their combined help to millions.
Some 1,100 organisations and agencies, from police and fire departments to national offices of the Red Cross, partner with Scientology Volunteer Ministers in disaster relief efforts around the world.
GOVERNMENTS
You made their lives better, simply because you understand who they are and what they need. And you don't wait for marching orders. You know your profession and you've made a difference. —Mayor, Baton Rouge, Louisiana, U.S.
The Scientology Volunteers just showed up at our doorstep. And thank goodness they did. They said who they were, what they knew and what they could do. They helped us out tremendously. —Homeland Security Specialist, U.S.
The Volunteer Ministers are highly skilled and prepared to respond to disasters. The Churches of Scientology Disaster Response provided over one thousand volunteers from all over the country who served in operating shelters, gave mental and spiritual care to evacuees as well as to caregivers and responders, and helped with logistical services and physical reconstruction services. —U.S. Department of Homeland Security
Scientology Volunteer Ministers are unlike any organisation I have seen. The dedication is unlike any other. —City Official, Los Angeles, California, U.S.
Not only did you personally help people to recover and release pain and emotional upset, but your volunteers also provided something lasting to our people—you trained us in your techniques so that we can continue to help ourselves. —Provincial Governor, Philippines
The members of this body commend the Scientology Volunteer Ministers Corps on its traditions and history of service to others and extend their utmost respect and thanks for the Volunteer Ministers' altruistic service to the people of Haiti. —Georgia State Senate Resolution, U.S.
The presence of the Volunteer Ministers not only improved the conditions of the people but also the conditions of the actual structures in the village. The road started being worked on, creating actual roads for the first time in the history of the village. —Village Councillor, Botswana
LAW ENFORCEMENT
You all were the cavalry. It was like waggon trains being surrounded by the Indians with no hope. Then you hear that horn from the cavalry and you guys came in. Then all of our despair disappeared because of your presence, your actions, your smiles. —D/Chief Commander Field Operations, New Orleans, Louisiana, U.S.
Your help made us strong during that dreadful time and your assistance was a great inspiration when we needed it most. What you did in those days will forever remain in the minds of those of us who worked beside you and those survivors who you helped. —Asst. Director of Thai Military Attaché, Bureau of Intelligence, Supreme Command, Thailand
YOUR WORK DEMONSTRATES
that
SOMETHING CAN BE DONE ABOUT IT
and
YOU
are
DOING
a
MARVELLOUS JOB.
The Scientology Volunteer Ministers have helped the people of Samoa using Mr. Hubbard's philosophies through the Disaster Response Training programme, amongst others. The people of Samoa now have the tools to assist them with natural disasters as well as to improve social, economic and educational situations in the greater community. —Head of Training, Director of Internal Affairs, Independent State of Samoa
They give that human touch wherever it's needed, whenever it's needed. And that in itself is a powerful testimony to their work and the work of L. Ron Hubbard. —Police Association Executive, London, England
When you know that you can call upon somebody and that all you have to do is make one phone call and it'll happen, it means a lot. —Sergeant, Sheriff's Department, California, U.S.
COMMUNITY LEADERS
Whether physical, whether mental, any operational problem people had, they had a solution. —Company Executive, India
I can say without a doubt that I have seen a positive change in each participant in the workshops and those I spoke with one-on-one… We gave these workshops to government ministries and departments, schools, community leaders, sports teams, prisons, youth groups and various churches as well. —Chief Minister, Jesus Ministry Volunteer Church, Kingdom of Tonga
The UN Association of Haiti recognises the Church of Scientology Volunteer Ministers for their arrival, bravery and effectiveness in providing help to the people of Haiti in the wake of the earthquake of January 10, 2010. —Secretary General, United Nations Association, Haiti
A Volunteer Minister is a yellow shirt 24/7 that always cares. They're ready, willing and able to help at any time, and they do. —President, Youth Leadership Group, Canada
There was no other person, no other institution who walked in. The first to walk in was the Scientology volunteer team. And they came with a purpose, in good faith for our people. I especially thank the volunteer organisation for giving this courage. —Mayor of Galle, Sri Lanka
I saw the Church of Scientology Volunteer Ministers conducting extensive community help, and I thank them for this. Your work demonstrates that "something can be done about it" and you are doing a marvellous job. —Former Owner, Harrods, London, England
DISASTER RELIEF ORGANISATIONS
These angels just appeared in the middle of chaos without any fanfare and just presented themselves to myself and said, "We're here to help." —Coordinator, Disaster Response, Christchurch, New Zealand
We never saw people working with the programme like the Volunteer Ministers. Not as organised or with all the resources as the people in the Scientology Church. —President, Los Topos International Rescue Team, Mexico
There are a lot of people living in Haiti right now who would not be alive had they not been touched by some member of your Church. —Chairman, Haiti Relief Committee, Haiti
We wish to offer our sincere appreciation for the support afforded by the Scientology Volunteer Ministers during the New South Wales bush fire crisis. This bush fire was one of the largest and most difficult to combat. Because of your support, the Country Fire Service was able to maintain an effective fire fighting force. —Chief Officer and Chief Executive Officer, Country Fire Service, New South Wales, Australia
People just needed to talk. And I have yet to see a Scientology volunteer walk away from someone who wanted to talk. That's invaluable. You can't replace that with any programme. —Mass Care In-Charge, Emergency Operations Centre, Louisiana, U.S.